Mona is the most gracious hostess and I am especially honored to be part of her 'Holiday Inspiration' for this Christmas season.
On the first day of Christmas, my true love gave to me.....
I adore this tree made from a fallen tree trunk's T-shaped branch with a forest of bare twigs pushed into a series of holes drilled along the upper edge framing the 'branches'.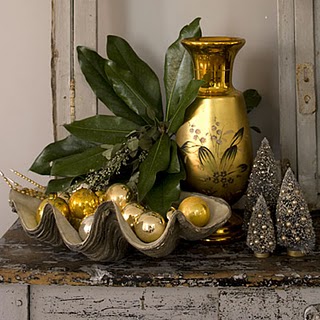 Southern Living
There's something about the south and the affection of Magnolia.
Veggies are not just for eating...very festive and a twist on tradition.
A superb winter garland brings a look of abundance to a contemporary fireside.
White roses, green apples, holly, spruce and cinnamon sticks bound with twists of white muslin.
Southern Living
Mercury glass, evergreens and holly berries....simple elegance.
Southern Living
Silver and hydrangeas - two of my favorite elements.
From my home to yours,
I wish you a joyous Christmas and may the
Joy of the Lord be yours.
- Renae -
Images via Renae Moore
We've got some really busy friends in the blog world right now. Thanks so much to Renae for taking the time away from her own design business and family to do this fabulous post. Another great friend Monika with Splendid Willow just launched her own online boutique today, Splendid Willow Avenue. She is representing the Scandinavian brand of rain gear for ILSE Jacobsen.
To celebrate the grand opening of the shop Monika is offering a really nice giveaway.
This design book by Andrew Hollingsworth…
And the Christmas CD "Joy to The World" by Pink Martini
to view all the offerings of Splendid Willow Avenue and sign up for the chance to win her fabulous giveaway.
So many busy people. I know that you are too, but let's just take a minute and chat. It's your turn. Let's talk!