One word: Fabulous! This home designed by Dan Carithers from Atlanta could have been designed today yet it was featured In Veranda Magazine in October 1999. We used these images recently to convince a client to do light painted walls with beams and dark hardwood floors. At the time we didn't even realize the photos were taken in 1999.
Just look how many of our favorite design elements were used. Shutters, lanterns, beams, light plastered walls, Trumeau mirror, aubusson tapestry, stone mantel, check fabric, sconces.....
This is the picture that convinced our client to go with ivory colored walls. Look how beautiful they are hear with the beams and wonderful wood floors. Everything just pops against the clean background.
Wouldn't you just love to join this dinner party?
Notice the neutral sofa and check fabric chairs. The pillows bring in the color from the amazing tapestry chair. Love the lantern and the French statues. I wonder if they are carved wood or terra cotta?
Fabulous stone fireplace. The blue and white vases are beautiful.
We are in love with Trumeau mirrors. Notice the symmetry with the plates hung on each side with the pair of chairs underneath.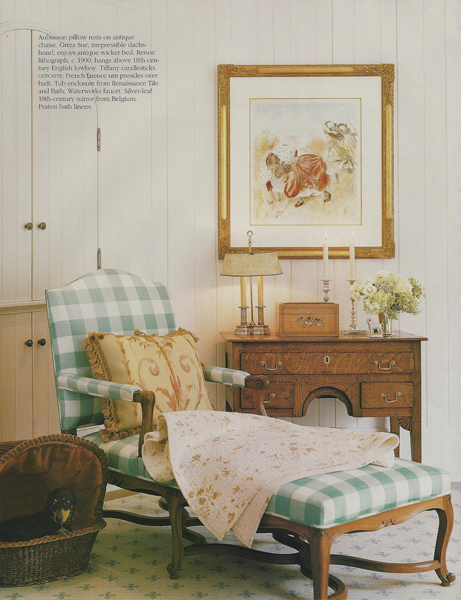 Checks again. If you like them and know how to use them you can't get too many.
Not your average linen closet!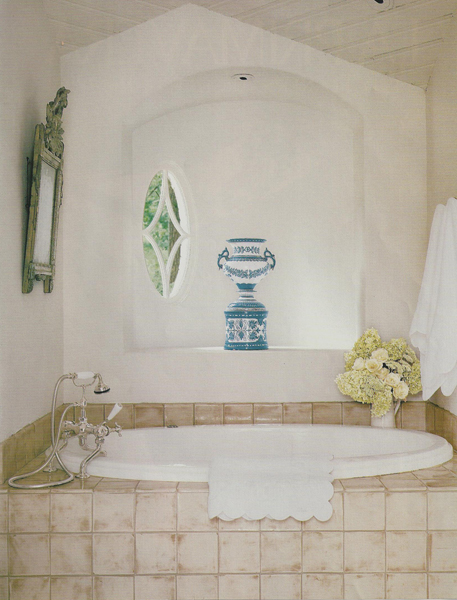 Speaking of timeless, Tara Shaw of New Orleans has been importing French, Italian and Swedish antiques since 2000 and selling to the trade only. She recently has launched her own line of reproduction furnishings inspired by her own private collection. The name of the new venture is Maison. To find out more about Tara Shaw and her amazing antiques visit
.
one of our favorite sources in Little Rock has been chosen as an exclusive dealer for Maison in our area. Tara Shaw was in town recently for the launch and we had the pleasure of meeting her and visiting about not only her career but her ideas on current and future trends in the design industry as she sees them. We were thrilled to say the least. She is an amazing woman.
We were so excited to meet Tara Shaw!
For more information about Maison and beautiful pics of the line click
to go to Cobblestone and Vine.