The simple beauty of white is inspiring me today as I sit at the computer with my steaming cup of coffee and watch the falling snow outside my window...
(Credit)
Just recently "Sister" helped her Daughter (Tara) who lives in Dallas redecorate their Master Bedroom.
I'm really disappointed we don't have any before shots of the space because the transformation is pretty amazing. Let's just say it looked NOTHING like this.
The room was already painted this beautiful soft gold color. The paint is Carbonite by Behr. Before, the furnishings and fabrics were very dark reds and golds and chocolate. The softer palette is so beautiful. Love the addition of the mantel for some architectural interest. Tara bought it at an Estate sale. She found the vintage mirror at a consignment shop on Knox Henderson called Again and Again.
The window is not centered on the wall so they draped most of the wall with panels found at Target so they could center the bed. The wonderful iron bed was a Christmas gift to each other for Tara and Cody from Weis Furniture in Dallas. The bedding is from Pottery Barn. Sister picked up the linen Euro from Carolyn Westbrook while at Roundtop and had it monogrammed.
We love all of Carolyn's bedding and her new book, The French Inspired Home...
Sister found the little side tables at a flea market in Little Rock. They were a dark wood and pretty beat up looking. She painted them and added new "old " hardware. They look fabulous and fit the space perfectly. The lamps are old stone balustrades with linen shades.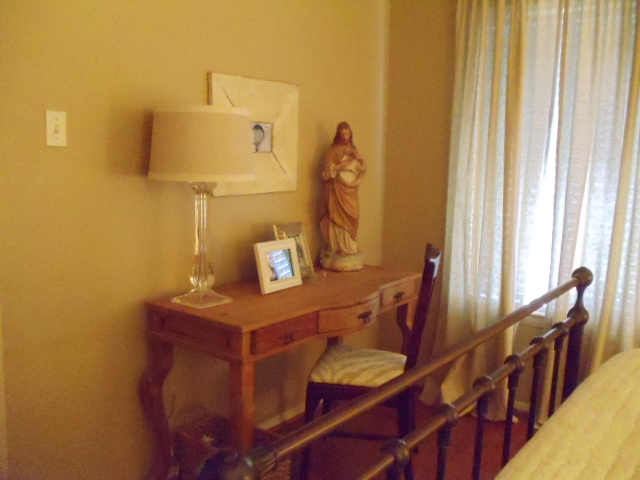 This is an old Pier 1 desk that Tara has had since college. The chair, another flea market find. The religious figurine was purchased at Marburger Antique Show. The lucite lamp is from Target. I love the hi-low mix through-out the room. Also, appreciate the fact that this is the perfect" gathered" mix rather than a room ordered from a catalog.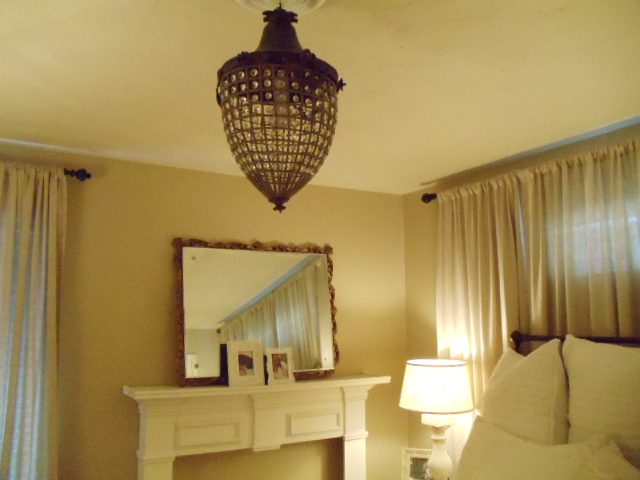 The crystal pendant chandelier that replaced a ceiling fan was a find from Roundtop and a 30th birthday gift from me.
White can be quite cozy, don't you think? It makes old things seem more current. The layering and accessorizing adds warmth and brings it all together.
What do you think? It's your turn. Let's talk!
Credit Belgian Pearls for the snow scene image.