Just before I started blogging my best friend and I spent a Saturday enjoying the Little Rock Garden Tour. You would think that this would have been a bright sunny day. Not...
It rained all day long , but we trudged on. There were 6 homes and all were magnificent but our very favorite was designed by P. Allen Smith. This French Style home is absolutely beautiful. Remember that I was not a blogger at this point so the only camera I had with me was my i-phone. Every picture was taken peaking through the hood of my rain coat and trying to keep the phone dry under the umbrella. Despite all of that, there are some amazing details here.
Enjoy...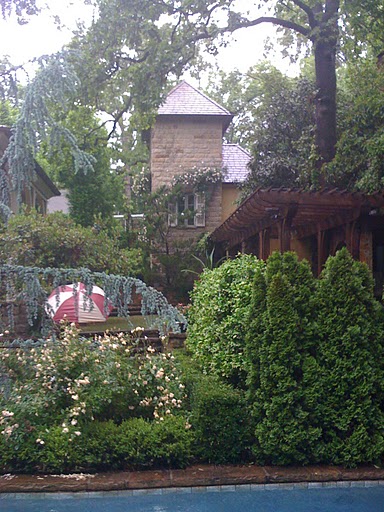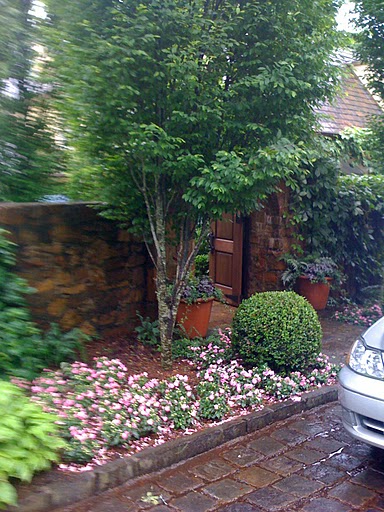 Well worth the time in the rain don't you think? We finally decided we couldn't take it any more around 3:00 amd headed to a favorite spot of ours, Cheers Restaurant for a burger and a glass of red wine.
It was a great day! As much as I loved seeing all of the beautiful gardens, the very best part was laughing and talking and trying to avoid the puddles with my best friend Jane. It doesn't get much better than that!
The next best thing could be to win this wonderful giveaway from Brambley Home and Garden.
A new blogger friend of mine Ann Marie is offering two great gifts:
P. Allen Smith's Garden Home Deck containing 50 inspiring cards that offer up beautiful ideas and recipes for putting together gorgeous container gardens all year long ...
as well as...
Perfect English by Ros Byam Shaw, a beautiful book that exemplifies English eclecticism and successfully avoids being too cliche or grandiose.
All you have to do to win is click here to go to Brambley Home and Garden Blog. Visit the site and sign up to follow.
There will be a random drawing for the winner on Thursday March31st.
I know you'll enjoy Ann Marie's blog and I'm dying to here your thoughts on this landscape design. Isn't it just gorgeous? So many things to love. The climbing hydrangea and roses...beautiful boxwoods, specimen trees, pea gravel, stone, iron, shutters, beautiful pool and arbour...I could go on and on.
It's your turn. Lets's talk!