We're very excited to have a lot going on. It seems we're in constant research mode, because that's what we do. We try to come up with the best ideas, the best products, the best prices...it goes on and on. That being said we have a lot of bathrooms on the brain right now. Powder baths,Master baths, spare bedroom baths, pool house baths...If you missed our Powder Bath post this week click here.
We're currently loving wallpaper. It's made a strong comeback and is better than ever. I started to title this post "Not Your Grandma's Wallpaper", because there are some pretty amazing designs available. If you're timid when it comes to wallpaper there is no better place to get your feet wet than in the bathroom...
All I can say about this room is...WOW!
Love all the light in this bathroom...and that gorgeous paper with the white marble! Oh, my!!!
Love the details here. Notice the black and white stripe below the trim mixed with the bright colorful paper . And that mirror. Awesome.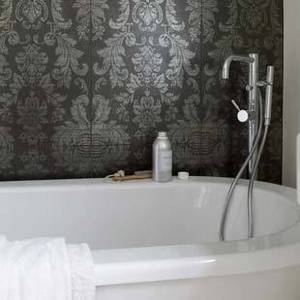 This is a really good example of updated Traditional. The pattern of the paper is very traditional,but paired with the glossy white mirror and other black and white accessories it feels very hip.
Even if your not wild about the finish and upholstery on this chair (and I'm not), This is fabulous!!! I love seeing the paper through the glass shower vs. tile. Very creative.
We just picked up a fabulous book by Sandpiper Studios...
We've never seen so many papers in one book that we liked so much...They call it
"a new look on vintage"
More light hearted papers from CSN...
What do you think? Will you get your feet wet with wallpaper anytime soon? If you missed our Powder Room post, click here. I'm researching DETAILS for the bath now so be sure and sign up to follow here or on facebook, you can do both from the sidebar on the right . You don't want to miss anything.
It's your turn. Let's Talk!
Images via The Enchanted Home,Google,Michael Smith,Caldwell Flake,elle Decor,Betty Lou Phillips,Decorista.