Some of you may remember Catherine with The Shiny Pebble Blog. We all had a lot of fun participating and following her Dining Room and Living Room makeover challenges. The Sisters had just started blogging then and that Series actually introduced us to a lot of the blogs that have become our daily reads.
Catherine challenged a variety of designers to first re-design her dining room and then it was on to the living room. Each week we waited in anticipation to see the new virtual design .
Charlotta Ward From Space For Inspiration
We're all so ready to get outside and celebrate a beautiful new season so we thought it would be fun to do the same thing with gardens and outdoor spaces.. No one enjoys scrolling through the lovely inspirational photos that bloggers share daily more than we do. However, what really inspires us are real life situations and solutions to various challenges that we all face. Join us over the next several weeks as we share tips and ideas that all of us can implement.
Debra Phillips with 5th and State stepped up to some really fun garden challenges with her re-design of a few of my beds. Go here to see Part One of that process.
Debra
Ann with Plum Sienna thought it would be fun to put her spin on my container gardening and help us get ready for a fabulous outdoor party. Many of you know Ann but for those who don't let me introduce you...
Ann
Ann is the proprietor of thePlumSiena blog, where she posts daily on design and gardening, with a focus on colors, textures and creativity. She originally created theRose et Lis blog, where she went into depth on a variety of subjects in special events, gardening and painting.
Ann obtained a BSRN degree and worked as an RN before raising her three children. She went from gardening to drying flowers and creating arrangements and wreaths, to working for a special events decorator, where she studied faux finishes and decorative painting all over the country. She now plasters and paints with her own company, Great Lakes Decorative Arts Studio, and also does freelance container gardening and other special projects in the special events field.
Ann is sooo talented. We can't wait to share with you her virtual makeover...
Hi! I'm so excited that Mona has asked me to assist with her container plantings this Spring. Debra is focusing on the beds and is hard at work trying to incorporate Mona's preferences. Her home's beauty speaks for itself, so we'll concentrate on injecting color accents in the containers.
The front urns and containers flanking the doors are a tad on the small side, which will limit our plant selections. Remember that the larger the container, the less urgent the practice of daily watering becomes.
Before we start the fun part, there are a few basics to follow. Choose a good potting soil that drains easily. No stealing the garden soil for the containers! I always add a slow release fertilizer to the soil mix and frequently add water retentive granules that will hold the water longer. The plants need to be watered daily. Even if there is rain, most of the time I also water, as the rain usually runs off the leaves and does not penetrate the soil enough for a good
watering. If there is a stretch of 90 degree+ days, you may have to water twice daily. If you feed the plants on a two to three week schedule, they will reward you with a great show!
In the two front urns, I am going to suggest an old faithful flower: the ivy geranium. These are the single variety. There are also double ivy geraniums in beautiful colors, but the singles bloom continuously and love the full sun that Mona's urns receive. You will not even have to add a green trailer, such as ivy, as the geraniums will spill over in no time.
Right now, the boxwood that are in the small containers flanking the front doors are perfect.
If the containers were larger, I would suggest two ball Eugenia topiaries to complement the curved doors. Their light level requirements are similar to the boxwood.
Moving around to the back of the house, here is the real living area of the summer. Isn't it serenely beautiful?
The loggia is where you would find me! The photos were taken last year.
The fern is fine here. However, I would also suggest an angel wing begonia here. Their light requirement is also only part sun and they grow huge with little fuss. I would plant it solo in the stone urn.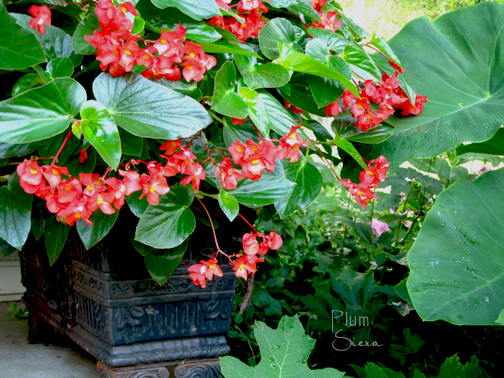 (Only the begonia- no marigolds, please.)
Again, here the pots are on the small side. I would recommend replacing the terra cotta pots on the ground with larger containers.They will stand less chance of drying out and provide a bigger show. The stand is darling and can be planted with Martha Washington geraniums or, perhaps, a bougainvillea to trail down?
Martha Washington geraniums
Bougainvillea
Here is how I envision the patio area. Lots of green with accents of color. Probably not as many small containers as the examples here as Mona prefers a neat look, but you get the picture.
For the rest of the courtyard area, other flowers that would look fab could be:
Standard Marguerite daisy
Brugsmania topiary- with a scent that is just luscious
(These are often also called datura.)
Lantana Topiary
Another approach to the smaller pots would be a more monochromatic theme, massed together. Frequently used herbs could be placed close at hand for a kitchen container garden. Succulents are also fun.
Succulents
I hope these ideas will get Mona started!
Next week, I will return with my decor suggestions for Mona's upcoming party. Stay tuned!
Wow! A huge thanks to Ann. We love your ideas and that there are so many options to choose from. Yes,the pots on the back patio are way too small. Those are the little things that just scream please change me when you look at them in a photograph. In fact we would often recommend that a client take pictures of their space to analyze for updates and changes. The perspective is much different than standing in the room.
Ann's plant choices are beautiful. We love topiaries and blooming plants that cascade over pots. I like the idea of a monochromatic theme massing similar plants in pots together and love the succulents on the cute little table. You have created a fabulous inspiration plan. Now it's up to me. Stay tuned to see what I come up with as well as more plans from Ann for a great outdoor party!
So what's for supper? Senior Tequila takeout. I'm still in the garden!
It's your turn. Let's talk!
Images via Garden Centre Online,Primegreenselection.com,Skillinsgardenblog,Google,logees.com,forums2.gardenweb,Art- Gardening- Pots by Elisabeth Lestrieux,Provence-Art-Living by Sam Walden