Tres Mckinney Design is a full service design firm specializing in residential interiors based in San Francisco. Tres has been designing interiors for over 20 years. Working with an extensive vocabulary of stylistic design approaches, Tres is known for designing timeless, gracious interiors all executed with great attention to detail.
Enjoy a sampling of her beautiful work...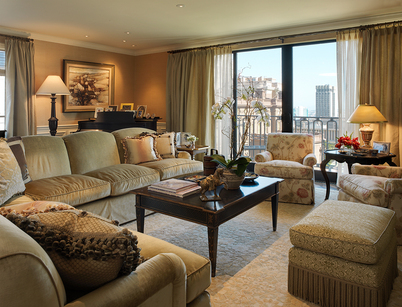 We've posted the image of this lovely powder room before. That is how Tres and I met. She e-mailed me about her very talented friend, Peggy Del Rosario. Peggy is an incredibly talented artist.
They've worked together on severl design projects. She did the painted fiish on the vanity.
Tres told me that Peggy had actually sent her to Providence Ltd Design because it was one of her favorite sites. Thank-you so much Peggy!!!
Trey and her husband visited their friend Peggy, this last Christmas in Portland Oregon. Andrew is a professional architectural and interiors photographer so he took plenty of pictures during their visit.
Peggy uses her home as a design laboratory so there is always something new and intriguing. She also is a master at accessorizing and creating stunning vignettes. If that is not enough - she also paints on canvas....
My heart started pounding when I saw these. She is so talented. She's been dubbed one of the best painters in the Pacific Northwet. Scroll slowly. You don't want to miss the incredible details in her home...
We don't normally post holiday images this time of year, but you won't want to miss this...
The painted chest is amazing!!!
The attic bedroom is going into my favorites file so I can drool over it often!!!
More images from Peggy's website...
I feel fortunate to have met these two very talented women. Blogging has been a constant source of inspiration that just never disappoints. To view Tres' complete portfolio click here and visit her website. To view Peggy's website click here.
It's your turn. Let's talk!!