I promised pics of Sister's screened porch ... they won't disappoint, and there's a whole lot more ...
A little background...She and her husband built their home 16 years ago. It's a gorgeous Southern Traditional ..
The front of Sister's house...
Recently the base of the fountain cracked and was leaking. I think it is even more beautiful planted...
This was our Father's Day celebration for Daddy, so Sister had white sangria waiting for us when we arrived...
Isn't the breakfast area beautiful?
It's hard to believe this is the original paper from 16 years ago. It's a Boussac and is just fabulous. She added the pendant light fixture a couple of years ago.
To the screened in porch...
This is everyone's favorite spot... the swing...now with new cushion and pillows...
The porch is 12 ft. wide and 45 ft. long. That's a really big porch. This seating area is across from the swing on the end of the porch off the kitchen..
These rockers are comfortable as well. They're older and really comfy. Very Southern vs. newer and trendy.
This is the view of the landscape from this end of the porch. You can sit in the rockers or the swing and hear the gentle sound of the fountain and look out at the lush garden.
The center of the porch also centers with double screen doors that lead to the back yard.
The dining table with candle lit chandelier separates the two ends of the porch...
Two large iron and glass etageres flank the double doors just across from the table...
The large palm also serves as a visual separation.
The far end of the porch is just off the Master bedroom...
Love the new outdoor rugs from Pottery Barn..
We found the concrete pedestal table on the way to the lake Memorial Day weekend...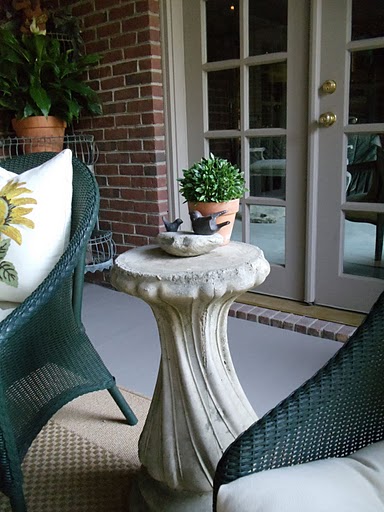 Lot's of details... Love the cloche..this dainty wire one with the bird on top is so pretty...
Have you noticed the gas lanterns? There are eight of them that cast a soft glow in the evening the length of the porch...The tongue in groove ceiling also adds a nice touch.
The doors that lead to the back yard...
Just a few inside shots...we'll share more later...
Sister had this stunning lamp made from a really old piece of statuary...love the custom shade... the scale for this room is just perfect...
The family room...mood lighting not exactly the best for photography...hey we're here for a party...
The formal living room...Another fabulous old lamp with custom shade...
That's all for now... We'll show more later, I promise...I've got to get back to the party...My sangria is waiting.
It's your turn. Let's talk!