Our friend Yvonne with Stone Gable is hosting a link party, ... On The Menu Monday. Bloggers from all over the country will link up and share menus, party tips and entertaining ideas...anything menu related. We decided to join in on the fun...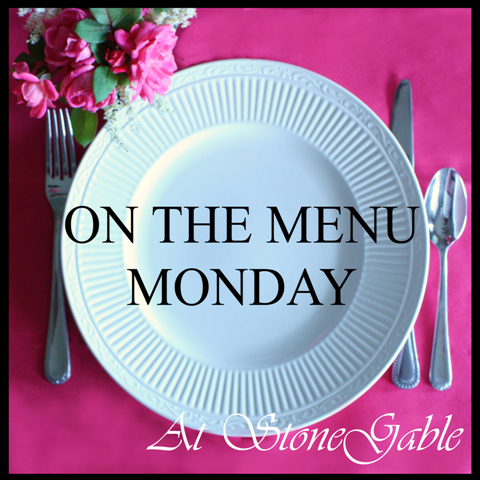 We're sharing tips and recipes for Stylish Summer Entertaining ...
Entertaining is made simpler this time of year because beautiful fresh flowers and plants are just outside the door...
Image Credit (1)
Clip sprigs of lavender for glasses filled with ice water or fresh lemonade ...
Image Credit (2)
Fresh mint for flavorful iced tea.
Fresh herbs for recipes and garnish...
Fresh cut hydrangeas make a simple but beautiful centerpiece...
Love beautiful white dishes. I have two different patterns... perfectly plain for every day and casual entertaining...
Plain or fancy...it makes no difference. The real wow is in simple details that make a big impact...
It may be a pretty cloth or candles...
Image Credit (3)
A pair of runners across the table rather than a single placed the length of the table...These are just flour sack towels...but fabulous!
Image Credit (4)
Add collections to your table...these blue and white vases filled with tulips are stunning...
Image Credit (5)
How about clear jars lining the table with just single blooms from your garden?...
Image Credit (6)
How about a single line of lanterns?...
Image Credit (7)
This is fabulous due to repetition of the same yellow flower...From centerpiece to beverage to salad...
Image Credit (8)
Add pots of herbs, bulbs or succulents from your patio...
Image Credit (9)
Does it get any simpler than this?...yet, how beautiful?
Image Credit (10)
You're getting it ...
1.Take your queues from nature and create center pieces and garnish for your dishes from your own back yard...
2.Begin with a basic, like plain white dishes and add fun splashes of color or a particular theme with collected colorful plates, personal collections and even vintage finds...
3.An assortment of beautiful napkins is always great to have on hand , but you can never go wrong with a classic white linen...
Now For The Food...
I have to tell you that I'd much rather set the stage than prepare the food. It's hot outside so we'll keep it light and simple...
A simple Summer dinner for a few close friends...
Beverages:
Watermelon Cooler
Appetizer:
Assorted cheeses, crackers and fruit...
For The Salad...
Vertical Pear Salad
You will not believe how easy this is...impressive looking , huh?
The Entree:
Grilled Balsamic-Garlic Crusted Pork Tenderloin
Pennette w/ Zucchini, Ricotta, Salata and Fresh Herbs
and finally dessert...
Chocolate Decadent Brownies
There are sooo many fabulous ideas out there. The possibilities are endless. We'd love to hear some of your entertaining tips and favorite recipes...
It's your turn. Let's talk.
A big thank-you to Yvonne at Stone Gable for inviting us to participate. Click here to hop on over and have your mind blown away by all the creativity and talent the blog world has to offer on Menu planning and entertaining.
Image Credits 1)Belgian Pearls2)Tumblr3)Cote de Texas4)Dcor de Provence5)Veranda6)Pinterest7)Cote Sud8)Unknown9)House Beautiful10)Griege11)All other images via Providence ltd. Design and Pinterest.