We want to make a huge apology for the lack of posts... on top of that we have really missed visiting all of our blog friends.
We're now back from our ten day buying trip and have so many exciting things to share with you...
A little Round Top Recap...
It was 109 degrees the day we loaded to head home...
The Penske truck in the background as well as my car were packed to the top
when we drove out of town...
Besides the hunt...lot's of fun things happened while we were there...
We ran into designer Rachel Ashwell...founder of Shabby Chic in 1989 who now has flagship stores in New York, California and London. She also authors books,and has her own bedding and furniture lines. Rachel loves Round Top Texas and recently opened her own bed and breakfast there...The Prairie. Joni with Cote De Texas did a very interesting post about it. Click here to get all the details as only Joni can give.l
We love the Junk Gypsies...Obviously HGTV does too! They are following them on the road for a year filming a reality show...
We just happened to nab that chair before the shoot started ...actually a pair. They need new upholstery, but are so fabulous!
Click here for a really fun video of them on the road.
We unloaded all day today...
What would we have done without Sister's husband, Mike?
He is one wonderful man. We were in a real bind. He stepped up and drove that 26ft. truck, 9 hours to Round Top... loaded most of it...drove it home, and was there at 8:00 this morning hauling it all off. This is not his gig...he builds houses...
Thank-you... Mike!!!!!
Actually it took five people to get it all done today, because the Penske has to be returned tomorrow...
Sorry..got busy and didn't get any pictures of the rest of the crew.
Here's just a little peak at some of our new finds..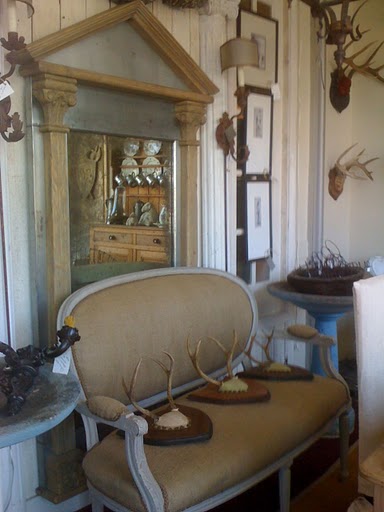 More great news...
We're expanding and moving into a new shop in The Heights on Kavanaugh...It will be a collaboration of three local antique dealers and designers.
Le Jardine Antiquities...opening mid October.
Also...
As promised our new online shop really is launching. Hopefully by mid October as well. We have a wonderful local photographer and web designer, Keegan Knapp. He is doing an increible job putting our vision to life.
Sister and I are ready for for a little rest...don't really see that happening anytime soon.
That's OK...we're loving every minute of what we do...and we just love sharing it all with you!!!
It's your turn. Let's talk!