It's been a difficult week. Missing Cappi so much, but Sister has been there for me and kept us working hard. I want to thank each and every one of you for your comments, phone calls and e-mails. I just can't tell you how much they have meant to Don and I.
It's time to get back to Sunday Supper...
This recipe from Cooking Light sounds so good...
Fish Tacos with Lime Cilantro Crema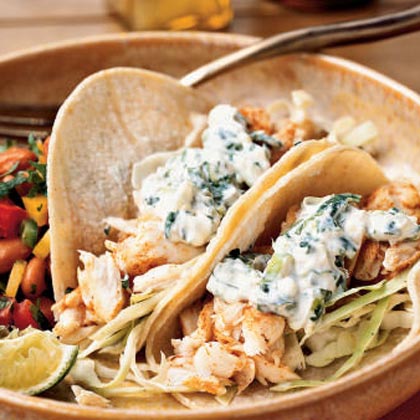 Cumin, coriander, and paprika lend these fish tacos a delightfully warm, smoky flavor. They're the perfect foundation for the zippy sour cream sauce. For an appealing variation, substitute peeled medium shrimp for the snapper or romaine in place of cabbage.
Crema
1/4 cup thinly sliced green onions
1/4 cup chopped fresh cilantro
3 tablespoons fat-free mayonnaise
3 tablespoons reduced-fat sour cream
1 teaspoon grated lime rind
1 1/2 teaspoons fresh lime juice
1/4 teaspoon salt
1 garlic clove, minced
Tacos:
1 teaspoon ground cumin
1 teaspoon ground coriander
1/2 teaspoon smoked paprika
1/4 teaspoon ground red pepper
1/8 teaspoon salt
1/8 teaspoon garlic powder
1 1/2 pounds red snapper fillets
Cooking spray
8 (6-inch) corn tortillas
2 cups shredded cabbage
Preparation
Preheat oven to 425°. To prepare crema, combine the first 8 ingredients in a small bowl; set aside. To prepare tacos, combine cumin and next 5 ingredients (through garlic powder) in a small bowl; sprinkle spice mixture evenly over both sides of fish. Place fish on a baking sheet coated with cooking spray. Bake at 425° for 9 minutes or until fish flakes easily when tested with a fork or until desired degree of doneness. Place fish in a bowl; break into pieces with a fork. Heat tortillas according to package directions. Divide fish evenly among tortillas. Add cabbage and crema.
Yum! Yum!
The table is all set...
It's your turn. Let's talk!
Images via Cooking Light, Eclectic Revisited, This is Glamorous