Vintage...this term is used a lot today...
The correct use of the word is to identify the year when wine was made...
The common use of the updated term describes something that is old enough to be fashionable again...not quite antique but very desireable...
Vintage jewlery is and always has been very desireable...
Vintage to Neely Phelan...this very talented jewelry designer means not only desireable but unforgettable..
After designing jewelry for a retail department store for 3 years, she left in 2005 to start a family. During the time she was at home she found her niche in the jewelry world...Vintage!
We are thrilled to introduce you to Neely...
"I love to take antique and vintage treasures and design them into timeless one-of-a kind piecessays Neely. I love to create pieces that have history behind them and will tell a story from the past.
I design all the pieces by myself in my studio/playroom in my house, usually after the kids go to bed! It is my escape from reality sometimes. I love getting creative and coming up with new ideas. I am a wife and a mom of 3 young boys during the day and a jewelry designer by night! I admire anything old and unique. I love revamping vintage jewelry into one of a kind pieces that tell a story."
"I love to create pieces that have history behind them and will tell a story from the past. My desire is to transform the forgotten into the unforgettable!!"
Neely's one of a kind vintage pieces are fabulous. We are so fortunate to showcase her recent designs in our online shop for the next 30 days.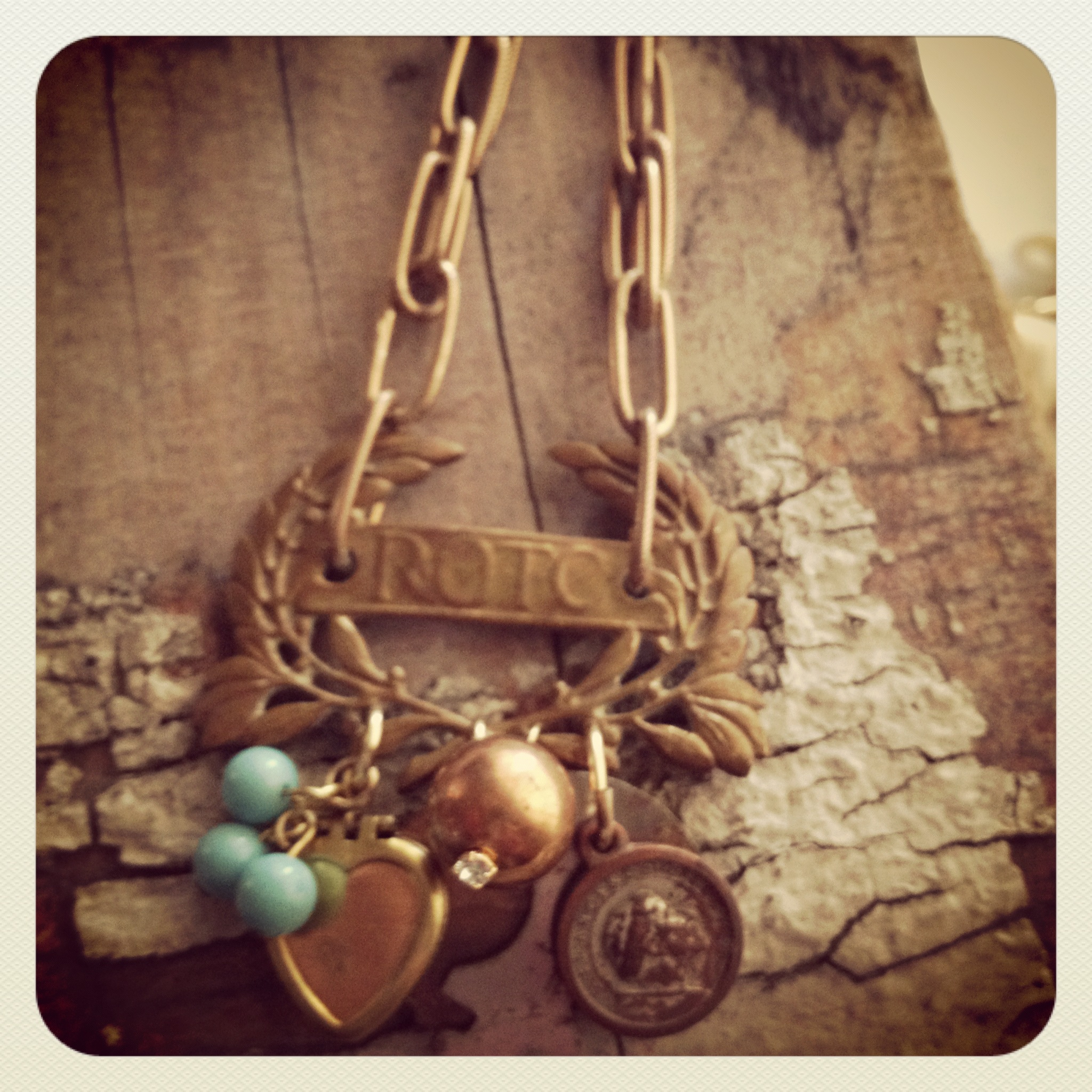 This is just a small offering to wet your appetite...visit our online shop for many more one of a kind designs....
We are also very fortunate that Neely is offfering this fabulous one of a kind Religious Vintage Medal as a giveaway to one lucky follower.
All you have to do to win is visit our online store.
Click on the Featured items section and scroll through all of the lovely designs. Come back and commenton your favorite piece to put your name in the hat for the drawing that will take place on May 10th.
All of the details and pricing is right there in the store. Click on each item for complete details.
We are taking orders ...so hurry on over and shop because each of these pieces are a one of a kind. If you are interested in a custom piece or something similar to what you see here, don't hesitate to contact us.
It's your turn...Click here to visit the online store ... come back, and let's talk!
Images via Plumsiennablogspot,Trouvais,shopbop.com,bing.com,ohweddingbelles.tumblr,adorevintage.blogspot,Neely Phelan