Fabulous kitchens...we just love them...the heart of the home.
I think our Sunday Supper posts originated way back when we started blogging, because of our love for good food, beautiful kitchens and the wonderful atmosphere that you can create around the whole dining experience...
The Sister's are very big on atmosphere too...But if you have been following for long, you already know that...
I can just see myself in this wonderful kitchen, barefoot with a glass of wine chopping and stirring and creating a delicious...but simple meal...the key for me is simple...because remember for us it's about the entire experience...not just working ourselves into a frenzy...
So here's another simple delicious couple of recipes for you to try...I promise that you will be glad that you pinned or saved these...
Bacon and Goat Cheese Stuffed Chicken
Recipe via Handle the Heat
Ingredients:
2 tablespoons green onions,
sliced 3 ounces goat cheese
1 slice bacon, cooked & crumbled
4 (6-oz) skinless, boneless, chicken breast halves
salt & freshly ground black pepper
1 tablespoon canola oil
Directions:
Preheat oven to 350 degrees F.
Combine onions, cheese, and bacon in a small bowl. Cut a 1-inch-wide slit into the thick end of each chicken breast, and carefully cut down to center of chicken to form a pocket. Divide cheese mixture evenly among pockets. Secure with wooden picks. Sprinkle chicken with 1/2 teaspoon salt and 1/4 teaspoon pepper.
Heat a large ovenproof skillet over medium-high heat. Add the oil. Add chicken to pan; saute 4 minutes. Turn chicken over and place skillet in oven and bake for 12 minutes; let stand 5 minutes before serving.
Yum!
A fresh green salad with a sweet basil vinaigrette is perfect with this...
Recipe via The Cafe Sucre Farine
Sweet Basil Vinaigrette
¼ lb. fresh basil leaves (about 2 1/2 cups, roughly chopped)
⅓ cup rice vinegar
¾ cup canola oil
1 tablespoons sugar
2 tablespoons honey
1 clove garlic
2 teaspoons Dijon mustard
Sea salt and pepper to taste
1. Combine vinegar, basil, garlic, mustard, sugar and honey in a food processor or blender. Puree mixture until smooth and bright green.
2. With motor running, slowly add the salad oil to form an emulsion.
3. Season with sea salt and pepper to taste.
The table's all set...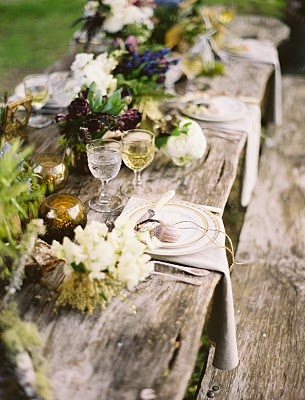 To follow our blog...
.
To follow us on
Pinterest
..
...
To follow us on Facebook ...
To inquire about our design services either in home or online...
To visit our
online store
...
.
Images via Decor de Provence Handle the Heat Blog, The Cafe Sucre Farine, Flower Wild Events Blog