Factory windows add vintage industrial charm to shower enclosures...
What is not to love about this?
Image via Remodelista
I chose an open entry to our master shower on both ends, and am very happy...
But if I decided to add doors...it would be beautiful old iron gates similar to these...
Image via I Heart This
More lovely shower inspiration...
Image via Things That Inspire
OOps, got a little distracted...although a very creative shower!
Image via Palm Design Group
Designed by Barry Dixon
Another of our favorites...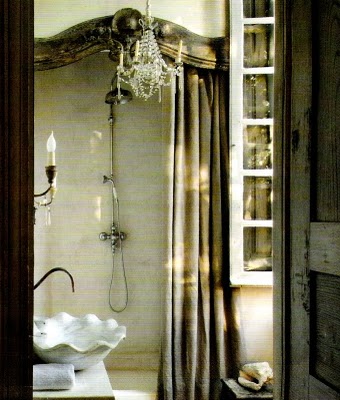 Image via Acquired Objects
Image via Grant Gibson
The most beautiful tile..
Image via Cote de Texas
The most fabulous outdoor shower...
Image via Veranda
For even more beautiful bath inspiration click here and here,. Two of our most popular posts.
So many creative ideas...Do you have a favorite or an idea you would like to share?
It's your turn.
Let's talk!